DIY Photo Backdrop Hanging System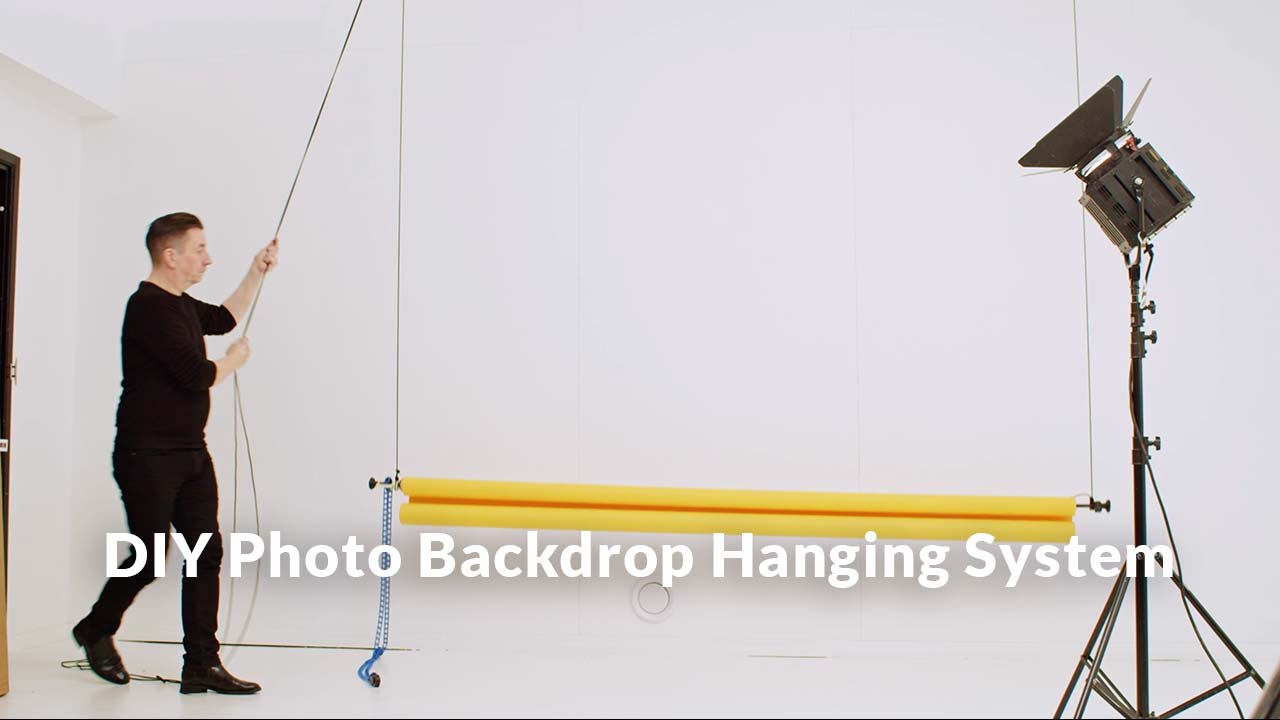 Dan Hostettler, EiC ISO1200:
"Have you ever struggled to put up a heavy photo backdrop onto your ceiling mount without the help of an assistant? Remember how hard it is to be climbing a ladder with a 270cm, 5kg/11lbs heavy paper roll and trying to keep your balance while carefully taking one step at a time?
Or maybe you are using a half-baked DIY 'solution' in form of a few laundry lines that require several wary steps to be mounted properly?
I guess we all have been there!"
DIY Photo Backdrop Hanging System
Marco Melander, a photographer from Helsinki, came up with an elegant idea and produced a short guidance video on how you can hang backdrops (seamless paper, fabrics, hand-painted backdrops) the easy way on your own. Without risking your neck!
Yes, there's a bit of investment and elbow grease necessary setting up this system. However, this fixed installation is an awesome solution that is worth the effort and will certainly make your studio life easier, especially if you are running a one-wo/man operation.
DIY: Backdrop hanging with ropes
This is what you need:
12-15 meters of rope (6-8 mm) depending of the height of your studio
2 eye screws for ceiling installation
2 snap hooks
1 single pulley and 1 double pulley
1 bollard
a backdrop expan set or a rod
This is what you do:
Drill holes for the eye screws to the ceiling and insert suitable plugs. The distance between eye screws is 270 cm.
Use snap hoops for the pulleys. The double pulley is installed on the same side as the bollard.
Pull out both ends of the rope through the double pulley. (Do not cut the rope, keep it as a loop).
Fasten the single pulley and pull out the other end of the rope.
Make hangmans knot on both ends of the rope for easy adjusting, tightening and loosening. Attach the expat set.
Level the backdrop by adjusting the ropes and secure to the bollard.
You can also use a simple rod to hang up backdrops and fabrics.
Studio Life: Organize Your Backdrops with a Stacker Original
And, btw, Marco Melander also came up with a smart and effective solution for storing all of your seamless backdrops in a neat, organized way.
Want to make a better impression on your clients and team? Get more details here:
https://www.stackeroriginal.com/
Marco Melander is a photographer who lives and works in Helsinki. He is best known for his art project Atelieri O. Haapala (2008–2016), which he carried out together with Saara Salmi. They photographed people at various thematic events, explored the construction of identity through roles, and offered nostalgic escapism through participatory performances.
In addition to his artistic portrait work, he does commission work, e.g. design companies, advertising agencies, and the National Board of Antiquities.
Want to organize your backdrops? Visit: https://www.stackeroriginal.com